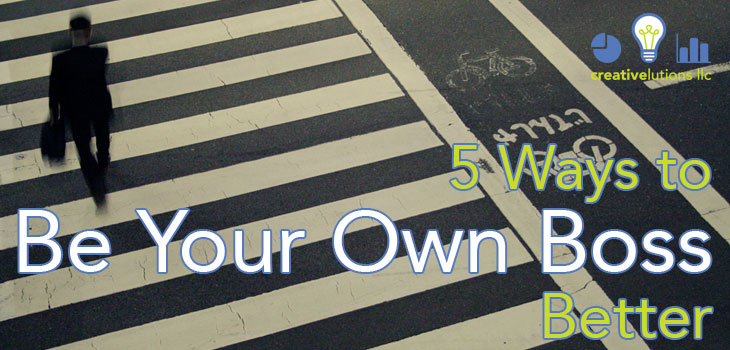 Become a Better Boss of Yourself by Increasing:
Schedule Structure

Internal Deadlines

Calendar Details

Performance Reviews

Time Off
Be your own boss.  To many, that phrase is synonymous with complete freedom. Freedom from schedules.  Freedom from deadlines.  Freedom from location.  And, most importantly, freedom from someone else telling you what to do.
While it's true that being your own boss means not having to take orders from someone else, you should still be taking orders from yourself.  If you don't do a good job of managing yourself, then you're not serving as your own boss very well.
Even if you're a solopreneur doing work from home jobs, you're still a boss, and you have a responsibility to manage yourself.  You have to be telling yourself what to do, how to do it, and when to do it by.  If you don't, you're just an employee gone rogue.
To improve your ability and effectiveness at being your own boss, start with these 5 actionable tasks.  They will allow you to add self-imposed structure into your working life, and might even earn one of those "World's Best Boss" mugs from yourself in the process.
1. Set a Daily Schedule
Many non-business owners think that the life of a business owner and the ability to set your own hours is full of free time and impromptu decisions about how to spend each day.  All entrepreneurs know that this is not true, but as your own boss you need to make sure that you don't fall into the stereotype.  To instill self-discipline in yourself, set a daily schedule that includes everything from the moment you wake up to the moment you "leave the office".  Even if a portion of your day is dedicated to free time, set a structure for it so that you can ensure all of your responsibilities are met.
2. Set Deadlines
Without a manager constantly reminding you of which tasks need to take priority, you're at the mercy of your own ability to keep everything straight.  By setting internal deadlines for yourself, you'll be able to prioritize your tasks to ensure the deadlines are met.  If you don't meet a deadline, you'll have yourself to answer to.  When that time comes, don't go easy on yourself.
3. Calendar Your Tasks and Meetings
With your daily schedule and deadlines set, you'll need to have a place to store all of the information.  That place should not be your brain.  By entering all of your meetings, as well as time blocks for all of your tasks, directly onto your calendar, you'll be confident that you have enough time to get everything done.  As your day progresses, you'll also be able to easily assess if you're trending ahead of schedule or falling behind.
4. Complete Performance Reviews
As an employee, performance reviews are a way for managers to provide you with feedback on what you're doing well and what you could improve upon.  As your own boss, you'll have to be honest with yourself about how well you're doing your job.  Periodically and consistently you should analyze your performance and make adjustments to improve it.  This may come in the form of an Eliminate, Automate, Delegate, Do analysis, or some other way to identify areas for improvement.
5. Tell Yourself to Go Home Early
As a business owner and entrepreneur, your office is always open.  Even if you're not sitting at your desk, your mind is constantly turning about the tasks you have to complete and new ideas for your business.  It's hard to shut this off, especially when there is no one to tell you, "You've been doing a great job.  Take the afternoon off."  Sometimes, you've got to be the person to give yourself some time off.  Your mind, body, friends, and family will appreciate it.